To my favourite people,
I thought that it would be wildly appropriate to make my first post in months a letter explaining where I've been, both geographically and mentally since my last recipe. I do hope that you give a care :).
You might have already guessed it, but food is a veeeeerrry big part of who I am. If you know me personally, then you'll know what I'm like when I talk about it. Just the thought alone of eating, cooking, and shopping for food lights up my spirit, and my eyes acquire an…inspired crazy look. I have always benefited from my Grandad's saying, that even if we don't have much, we will always have food. Here, no one will go hungry.
My family is sardine-tin-packed with people who throw love and passion into the pan, and have worked hard throughout my life to put food on the table every day. Yet, it was only until I went to South America for a few months earlier this year, that I realised how much I took their ability to do that for granted. Prior to my trip, I believed that I appreciated what I had. The assumption was that because I had never felt particularly ungrateful, and deeply love everything that my family has done for me, that my appreciation was also a given. Right? Ehhhhh…wrong.
I left London for South America with the intentions of gaining at least 10kg, getting real THIC', and documenting all of my amazing street food experiences live on Instagram. I even warned my family that they'd have to roll me off the plane, like so….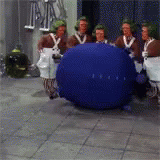 BUT as is the case with a lot of intentions…reality swallowed them whole. During my trip I ate less, lost weight, and my iThings were stolen – all in the space of two weeks. These aren't even struggles to write home about, but being stripped back to basics forced my eyes open. As I said earlier, food is a big part of who I am, but for the first time in my life, I began to see some fundamental flaws in my way of thinking about it.
I had never truly been hungry or thirsty before. I had never experienced rationing. In fact, I never wanted for anything at all growing up, and my family made sure of that. However, unlike me, my parents and grandparents were born and raised in a world not too far off from the one that I only spent a few months in. I had never understood that my Grandad's saying came into existence because he had witnessed struggles that were wiped clean for me. In my fleeting moments of hunger, I had never felt more appreciation for my family, and it was  also then that my understanding of the nightmare that is the food culture of the western world expanded massively.
It angers me that in a world where so much food is wasted, people go hungry.
Since returning, I have been educating myself on the food industry, and thinking about how to use my privilege to feed more people. Food has value, and I was guilty of getting so caught up in the pleasure of eating, that I forgot its cost.
Over the coming months I will be posting about my time in each of the countries I travelled to, speak on the lessons that I learnt about food as well as sustainability, and of course, share recipes that encapsulate my time there. I have so much planned and I can't wait to share it all with you.
Thank you for reading this, you're amazing.
Love,
J x
P.S. Recipes are coming in a hot minute!